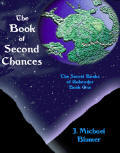 FOR IMMEDIATE RELEASE
NEW TITLE INFORMATION
What Would You Risk for A Magic Second Chance?
The life of two thirteen year olds is about to change forever when they discover a world of magical creatures, wizards, spells and a very special book.
TITLE: The Book of Second Chances
SERIES TITLE: The Secret Books of Gabendoor
AUTHOR: J. Michael Blumer
SUMMARY: Hillary and Windslow must choose between saving the distant world of Gabendoor from an evil wizard and reversing an accident that confined Windslow to a wheelchair. With an odd assortment of companions, Hillary and Windslow struggle to solve the mysteries of the magic Book of Second Chances. Itís their only hope to defeat the wizard and his creatures.
RELEVANCE: Magic, wizards and fantasy worlds, yet real life teens who face disabilities, family issues, and sibling rivalry. A delightful adventure with lessons for everyone about second chances.
AUTHORíS CREDENTIALS: J. Michael Blumer is the author of The Book of Second Chances, The Book of Broken Promises and The Book of Twisted Truths, the first three novels in a five novel series: The Secret Books of Gabendoor, a fantasy world set in another dimension.
Early Review: "A great book for young adults, teens, and early chapter readers. A fun book for parents to read with their children. Our book club loved it!"
--Melissa Richards, Librarian, Queensland Australia
PRINT RUN: 35,000
GENRE: Young Adult, Fantasy
ISBN: 1-59092-317-0
PUB DATE: September, 2006
PRICE: $14.99
PAGES: 288
TRIM: 7.5 x 5.25
BINDING: Trade Paperback
ILLUSTRATED: No
RIGHTS: Worldwide
EDITOR: Cris DiMarco
DISTRIBUTOR: Ingram, Baker & Taylor, Others
MARKETING BUDGET: $35,000
TOUR: Minneapolis, Saint Paul, Stillwater, Duluth, Rochester, Seattle, Portland, Charlotte, Hudson, Madison.
DIVISION: Blue Works