The Book of Broken Promises
Early Reviews!
& Cover Preview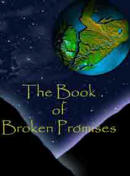 A magic book transports Hillary and Windslow to their next adventure in Gabendoor. Gristle-tooth is breaking free from centuries of confinement. He promised to release the ancient time mists to destroy Gabendoor. The "Book of Broken Promises" holds the key to stopping him, but no one knows how the book works. Hillary and Windslow must choose which of their own promises to keep or break to unlock the book's secrets and magic. Choosing wrong means the book will release the time mist. Choosing right will help Gristle-tooth. But the book holds one last promise that surprises everyone
Windslow, Hillary and Jimmy leave behind their lives on Earth to help save Gabendoor from the evil Gristle-tooth. They meet many friends and foes along the way. They encounter many mysteries as they struggle to find the secret of how to defeat Gristle-tooth.
I liked it because it was a good mix of comedy and fantasy. I really liked it because I read the book before I went to bed and I kept telling myself, one more chapter, one more and I stayed up until 10 some nights. My favorite character is Jimmy because I felt sorry for him that he got caught up in something he knew nothing about.
My favorite scene was when the time-mist turned everything all weird.
A fantasy that will leave you wanting to read more, no matter what your age.
---David W. Book Busters book club, Queensland Australia
---
Gabendoor needs the help of The Children of The Summer Wind. Gristle-tooth wants the Book of Broken Promises, a book that came into Windslow's possession soon after he and Hillary saved Gabendoor. Before they can even think about Gabendoor, they need to decide who and who not to trust.
I liked the book because you read one or two chapters and you want to keep reading, not just to finish it, but because you like it.
My favorite character is Molly. She is the perfect character to love. The twist of heroine with humor and courage is marvelous.
When you find something you like, whether it being a book or a movie, etc., it's hard to find a favorite spot, but I would say mine are the scenes where Molly and Windslow are in them.
A fantasy, a thriller, with a bit of romance and humor. A 4-in-1.
I think J. Michael Blumer is fabulous, at least his books are. He is quickly growing to become one of my favorite authors and I can't wait until the next book. My advice to you. Read it!
---Madeline G. Book Busters book club, Queensland Australia
---